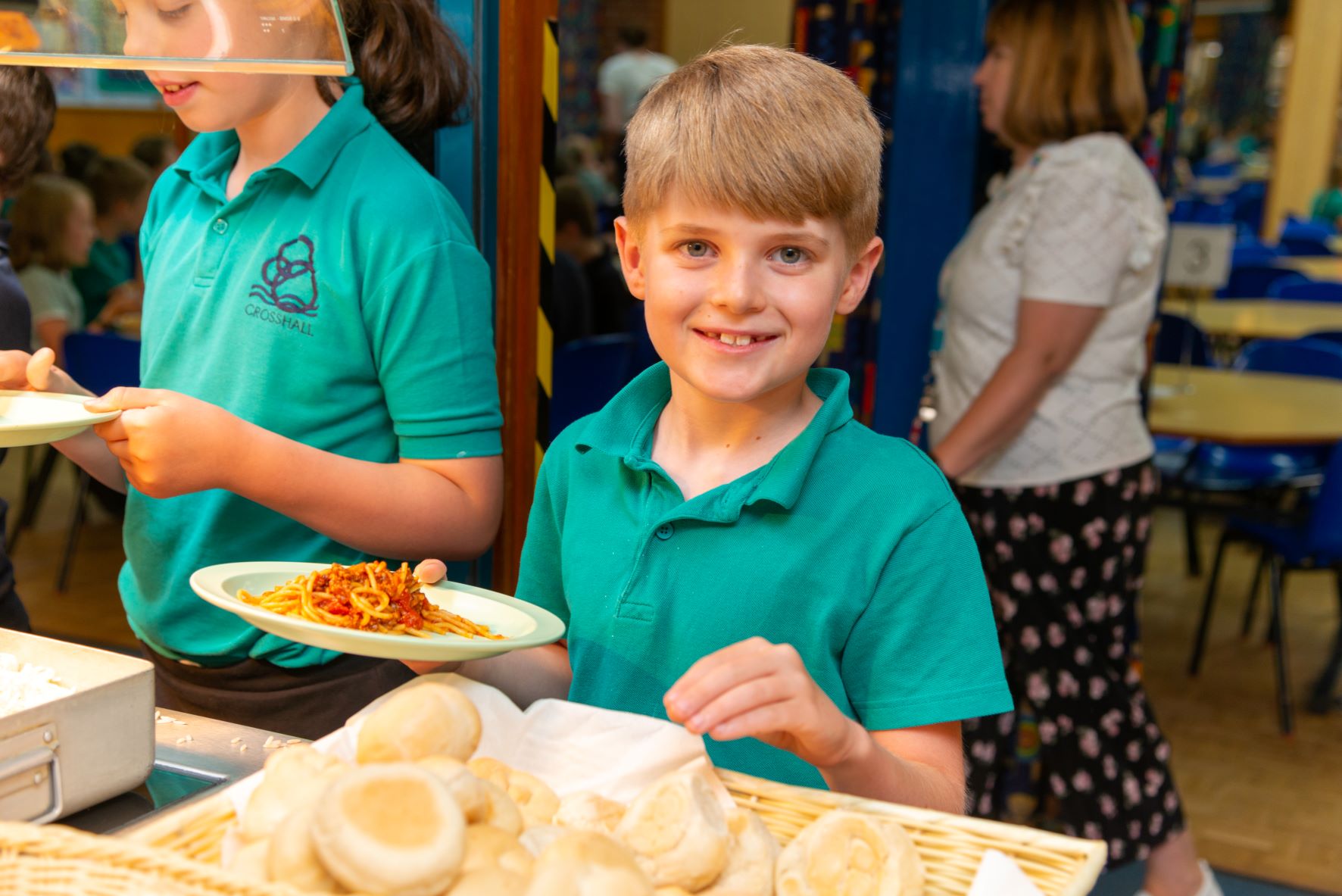 At Crosshall Junior School we are very proud of our catering resources. Mrs Jean Mitchell, Catering Manager, and her team have been awarded the highest grade of 5 stars for hygiene and food standards by Huntingdon District Council.
We provide a range of healthy and delicious school lunches and aim to provide a varied choice for pupils. Meals are £2.50 per day. Pay for meals via the Arbor app or Arbor Parents Portal here
Visitors are welcome, an adult meal costs £5.00. Please call the School Office before the day you wish to visit to book a school lunch. Visitors need to arrive at 12:10pm for lunch, and bring the correct cash amount.
We have a rotation of five weekly Menus (*however these are subject to change depending on availability of ingredients/supplies).
wc 4th September MENU 3
wc 11th September MENU 4
wc 18th September MENU 5
wc 25th September MENU 1
wc 2nd October MENU 2
wc 9th October MENU 3
wc 16th October MENU 4
HALF TERM
wc 30th October MENU 5
wc 6th November MENU 1
wc 13th November MENU 2
wc 20th November MENU 3
wc 27th November MENU 4
wc 4th December MENU 5
wc 11th December MENU 1
wc 18th December MENU 2
You can apply for Free School Meals via Cambridgeshire County Council website HERE
More information available under Free School Meals section HERE
Snacks
Please provide a healthy snack for morning break. We encourage a balanced diet.
Please note all snacks must be nut free.
Please do not send your child into school with any nut-based product for a snack or packed lunch – this includes products that may contain traces of nuts. Potential allergens could include the following:
NUTELLA, and NUTELLA based products

other butters or spreads e.g. peanut butter. almond butter

cereal bars

some types of biscuits containing nuts

cakes containing nuts

some snack pots containing nuts
It is important that you check the labelling of food products before sending your child in to school with them – it is not always apparent that products contain nuts or traces of nuts.
We also ask that, if you child consumers any nut-based products before school, they wash their hands thoroughly and rinse their mouth before entering the school grounds. We understand that these measures may seem extreme; however, we want to ensure the health and safety of all our pupils, and the pupil in question's allergy is so severe that even the slightest of contact with nuts would cause a severe and potentially life-threatening reaction.
As a school, we do not serve meals that contain nut-based products. We also ensure all food tables are disinfected before and after being used with antibacterial wipes and cleaning fluid.
If any pupil is found with a nut-based product, it will be confiscated and disposed of immediately.