WEEKLY TASKS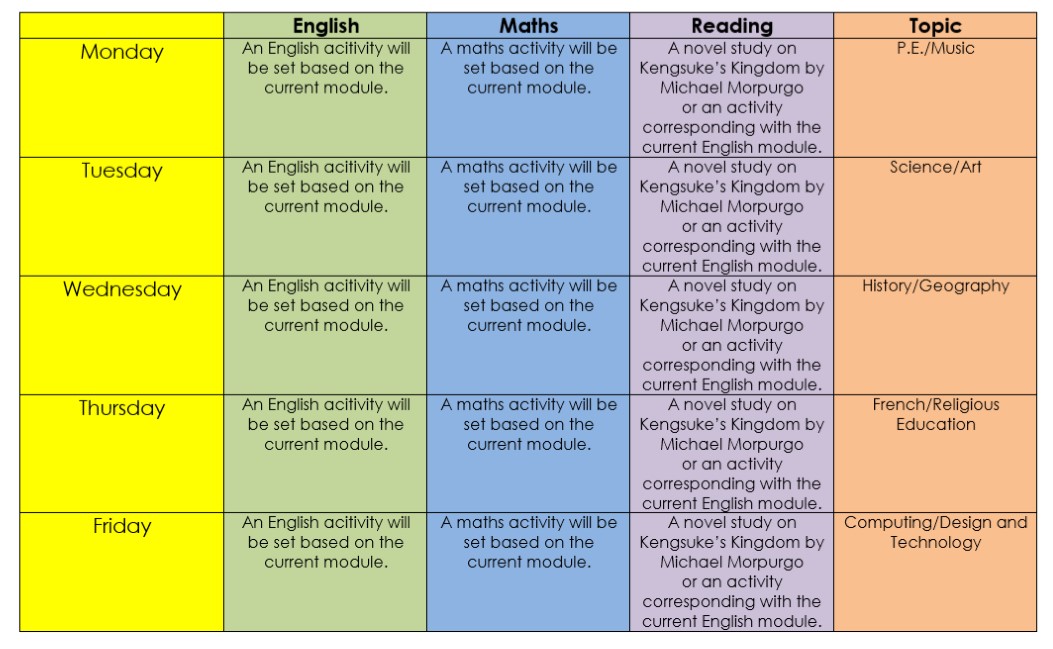 EXPECTATIONS
Using Google Classroom, the children are expected to complete four activities throughout the day. These consist of English, Reading, maths and a topic activity. These lessons correspond with the current teaching that is delivered in school to help with consistency for the children. The children will be learning science fiction in English, statistics and ratio in maths and completing a novel study on Michael Morpurgo's Kensuke's Kingdom. The topic activity will be scheduled on a 2 week rota to cover the different subjects corresponding with the Year Six Long Term Plan.
HOME LEARNING
Home Learning is set on a Thursday and due the following Tuesday. The tasks will be set on Google Classroom.
Generally these tasks will be: Times Tables Rockstars/MyMaths, spelling and reading. Students will only bring home reading books and spelling logs. Please encourage your child to access Google Classroom to complete the tasks every week.
MARKING AND FEEDBACK
Each activity is worth 10 points for a daily total of 40 points. The children should be attaching their work for the teacher to mark in the format of a Google Document, Google Slide, PDF of picture. If the children complete their work in their activity book, they are encouraged to take a picture of only their work and upload it to inform their teacher of their learning. The teacher then will give a mark out of 40 and make a comment under the student work tab if appropriate. The children are encouraged to comment and ask questions appropriately on the main stream.
SUPPORT
The children are encouraged to access Google Classroom independently to help them prepare for secondary school. However, we understand that some might struggle with technology or the activity that has been set. If you have any questions, comments or concerns, please contact the Year Six team through the office e-mail - office@crosshalljunior.co.uk. We are always here to help in these difficult circumstances.
USEFUL WEBSITES
Maths
TTRockstars - https://play.ttrockstars.com/auth
My Maths - https://www.mymaths.co.uk
Reading
Audible - https://stories.audible.com/start-listen
AR reading - https://ukhosted28.renlearn.co.uk/2051095/
English
100 Word Challenge - https://100wc.net
Pobble365 - https://www.pobble365.com
Music
Charanga – Yumu https://charanga.com/yumu/login
P.E.
https://www.bbc.co.uk/teach/supermovers/ks2-collection/zr4ky9q
GUIDES
Please find attached:
A guide to using Google Classrooms
Google Classrooms Assignments - Sharing Your Work
A guide to using Times Tables Rock Stars
A guide to using NumBots
A guide to staying safe online
Video guide to opening Google Classroom (below)
Video guide to creating and sharing documents in Google Classroom (below)