The Artsmark Award
Artsmark is the only creative quality standard for schools and education settings, accredited by Arts Council England.
Artsmark's flexible framework is designed to help schools embed arts, culture and creativity across their whole curriculum, celebrating the school's commitment to cultural education.
Artsmark ensures every young person can be creative and access a diverse, high-quality cultural education. The scheme encourages schools to consider the opportunities they offer in art, dance, drama and music. By gaining an Artsmark, a school shows its commitment to the wider development of young people and teachers and to raising the profile of the arts in the school.
Arts Council England developed seven Quality Principles to raise the quality of work being produced by, with and for children and young people.
The Quality Principles are embedded throughout the Artsmark framework to support schools to achieve their ambitions for a high-quality arts and cultural provision for all children in a school setting.
The seven Quality Principles are:
Striving for excellence and innovation
Being authentic
Being exciting, inspriting, and engaging
Ensuring a positive and inclusive experience
Actively involving children and young people
Enabling personal progression
Developing belonging and ownership
Our Artsmark Journey
We've done it again - we have achieved our Gold Artsmark Award 2023.
Our current priorities on this journey have been:
To provide each child with an arts curriculum that is balanced and innovative in order to help children gain confidence, competency, and independence to help them understand and appreciate the arts in all its forms.
To use creative arts to promote staff and pupil well-being through performing arts assemblies, internal and external training, and our student-led Arts Council
To ensure all our staff are confident teaching all aspects of the creative arts throughout our broad and balanced curriculum by giving professional development opportunities.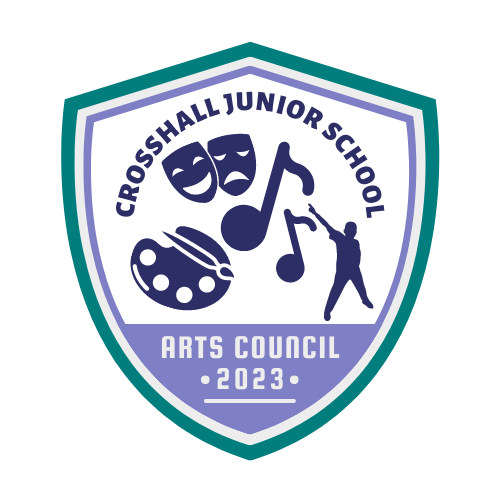 Feedback from Artsmark for our recent Gold Award included:
"Crosshall Junior School has used its Artsmark journey as a way of consolidating existing strengths and adding more strands of work too, bolstering teacher confidence, and opening new channels of pupil voice via your student Arts Council. Your Arts Passport shows how you value the arts for their own sake, as well as the boost they can give non-arts areas of the curriculum through creative pedagogies and inter-disciplinary work. You perceive your children to be more successful, more independent, more creative, happy and confident, ready to become responsible citizens and more aware of what they would like to attain in the future and have the skills and know-how to achieve their dreams. You have drawn attention to the creative and cultural industries as career choices, partly through successful partnerships with Huntingdon School Sports Partnership, Rock UK, Burwell House, Verulamium Museum, Fitzwilliam Museum, Woodgreen, Chiltern Air Museum, National Space Centre, West End in Schools, Legoland, Duxford Air Museum, Tally Ho Project, 3 peripatetic music teachers (piano, guitar, ukulele and drums), Mexicolore as well as entering new partnerships with Rocksteady, professional parent musicians, St Neots Library and Cambridgeshire Music Hub. You have interwoven all this activity with a renewed value and higher visibility for the arts which enhances the quality of teaching and learning, making your school a fun and productive place to be for children" - Artsmark